Biography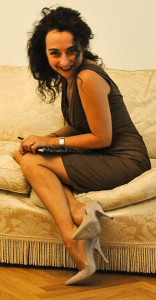 Giada Trebeschi was born in Reggio Emilia in 1973 but grew up in Bologna.
She writes novels, short stories, essays, screenplays and theater scripts that she sometimes likes to take on stage herself. Her career at university she finished with two MA, one in languages and literature, one in history of art and a Ph. D. in history. After having worked in university as Historian for nearly ten years, she decided to dedicate herself totally to writing, while still she is a passionate scientist.
In 2012 her novel La Dama Roja has been published in Spanish by Boveda, Algaida; in 2014 followed the Italian version, La Dama Rossa, with Mondadori.
She speaks five languages, lived in Switzerland for many years, moved to Spain, back to Italy and, at present enjoys living in Germany.
---
Playing with Marcel Proust's questionnaire.
The qualities I love in a man.
Intelligence, sense of humour and strenght.
The qualities I love in a woman. Intelligence and outspokenness.
A virtue.
Patience.
What I appreciate in my friends.
Sincerity.
What I appreciate in my enemies.
Sincerity.
My favourite activity.
Reading.
My dream of happiness.
My husband.
The biggest disgrace.
Loose those that I love.
What I would like to be.
Better.
Who, in history, I would have liked to be.
Frederick II of Swabia.
The country where I would like to live.
Where I feel home.
My favourite colour.
Yellow.
My favourite flower.
The Rose.
A jewel.
My engagement ring.
A bird.
The Eagle.
An animal.
The Lion.
Favourite author.
Shakespeare.
Favourite poets.
John Donne, Baudleaire, Ungaretti.
Favourite novels.
Wuthering Heights, Notre Dame de Paris, Il nome della rosa.
Favourite teather Works.
Cyrano de Bergèrac and, of course, Shakespeare, all the works!
A composer.
Mozart.
A painter.
Michelangelo.
Favourite Films.
Gone with the wind, Braveheart.
My heroes in History.
Alexander the Great, Julius Caesar, Frederick II, Caterina de' Medici.
Favourite Food.
The Pumpkin tortelli handmade by my grandma Haydée.
Favourite Drink.
Wine.
What I hate most.
The lack of common sense.
The military feat I most admire.
The D-Day.
The reform I most appreciate.
The electoral reform that gives the vote to the women.
The gift of nature I would like to have.
Being able to paint.
My actual mood.
Well, after all these questions…
My motto.
The most deadly sin of all is self-repression (William Blake).